Our lovely Landscape customers in Penistone sheffiled, had another case of the 'new builds' when home builders leave customers with woefully inadequate garden areas and usually bed drainage issues... thats when Dream Garden Design steps in and with our knowledge we advise how rectify the problem in a creative, attractive way!
The garden was large but just sloping grass down to a few standard slabs at the French door.
They wanted a more useable garden for their children and themselves to sit and enjoy the summer months, so a level garden rather than the slope.
Once we tier a garden, customers are always amazed how much the flat plains make the garden appear much, much bigger... we advised a wider path at the bottom with drainage channel and a feature patio circle with beautiful crafted 'dry stone' wall work around the feature and forming the new level retaining wall alway down the path area.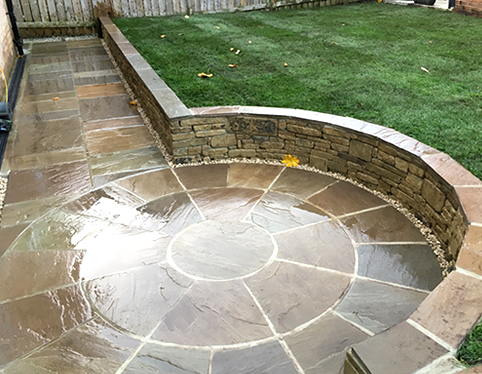 Another amazing finished result, our finish is OCD and as such our customers are always ecstatic about the result and transformation of their previously lack lustre garden.
Contact Dream Garden Design for a free quote, to transform your garden and lifestyle.
Garden design and landscaping barnsley ~ Garden design and landscaping sheffield ~ Garden design and landscaping wakefield ~ Garden design and landscaping huddersfield ~ Garden design and landscaping Yorkshire ~ Garden design and landscaping south yorkshire ~ Garden design and landscaping west yorkshire ~ Garden services in barmsley ~ garden design in barnley ~ landscape services in barnsley ~ landscape design in barnsley ~ garden maintenance in barnsley ~ garden clearance in barnsley ~ garden work in barnsley ~ patios in barnsley ~ paving in barnsley ~ laying turf barnsley ~ dry stone walling barnsley ~ gardening tips ~ garden advice ~ garden tips ~ gardening advice ~ how to garden ~ green fingers
Case Study 11
© Dream Garden Design, web1.1 Jan 06
The Dream bubble logo is a trademark for Dream Garden Design