This very large typically english garden we created a large patio area with indents of borders, the sandstone patio we bordered using the yorkstone patio slabs that were already in the old garden, we cut these up to form a very effective border that also gives a nod to the history of the house and garden.
The patio is so effective with the old stone border, there was also some stone grinding wheels from historic milling within the garden.
We suggested incorporating these symmetrically in the path borders that draws you into the greater patio area.
A very effective creative detail, I have a design background so I will always go for and suggest creative ideas... that often make my life more difficult but in the end creates happy customers.
Garden design and landscaping barnsley ~ Garden design and landscaping sheffield ~ Garden design and landscaping wakefield ~ Garden design and landscaping huddersfield ~ Garden design and landscaping Yorkshire ~ Garden design and landscaping south yorkshire ~ Garden design and landscaping west yorkshire ~ Garden services in barmsley ~ garden design in barnley ~ landscape services in barnsley ~ landscape design in barnsley ~ garden maintenance in barnsley ~ garden clearance in barnsley ~ garden work in barnsley ~ patios in barnsley ~ paving in barnsley ~ laying turf barnsley ~ dry stone walling barnsley ~ gardening tips ~ garden advice ~ garden tips ~ gardening advice ~ how to garden ~ green fingers
Case Study 12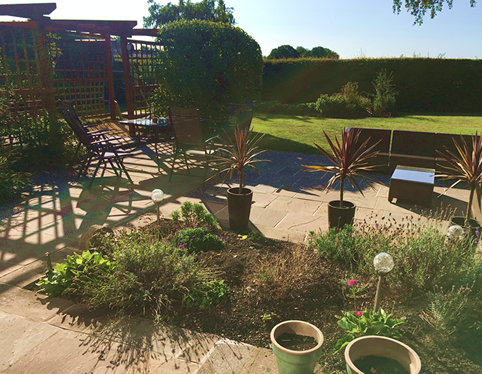 © Dream Garden Design, web1.1 Jan 06
The Dream bubble logo is a trademark for Dream Garden Design